Here at WisContainer Portable Storage, we are proud to provide you with new, reconditioned, and used shipping containers of all different conditions in Eau Claire, Chippewa Falls, Menomonie, Altoona, and the surrounding areas. Whether its for an individual or for business applications, we provide the perfect container for you. There are many different sizes of containers but the most common sizes are 20ft long x 8ft wide and 40ft long x 8ft wide.
The used shipping containers that we provide were utilized for international shipping. These containers are normally in service for 10-12 years and we take them in the aftermarket to use for different domestic and on-site storage purposes. Our "new" shipping containers are what is called one-trip or one-use containers. This means that they are manufactured overseas, then loaded with cargo, and finally shipped to the United States. After this is done they are no longer used for international shipping.
Storage containers are extremely durable and can withstand the elements. They are made of 14-gauge corrugated steel panels attached to 7-gauge steel frame members. Treated 1-1/8" marine plywood floors are attached to crossmembers every 12 inches. Double doors at one (or sometimes both) ends can be easily locked. Many have protective lockboxes to discourage tampering with padlocks.
Call us or fill out the form below to begin the search for your perfect shipping container.
---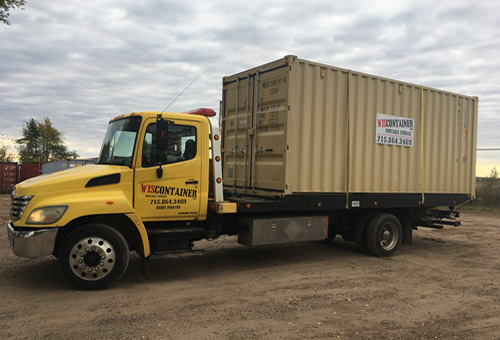 About Containers
Shipping containers come in varying sizes and levels of quality. At this time all of our containers are either 20-feet or 40-feet in length. 10-foot sizes may be available in the near future as well.
Quality
There are several different methods of grading the quality of shipping containers. There is no universal grading system at this time because although the containers usually start on cargo ships, they can have many uses even after they are no longer approved for shipping. Here are some helpful guidelines:
New (One Trip)
This condition is as close to new as you can buy. The unit has made one trip from its point of origin (China) carrying cargo, and is then returned to a distribution point and made available for sale. They are built to last 30 plus years and are usually the best option if your budget allows.
A Grade
One Trip containers which have been used for portable storage since arriving in the US. They may be a few years old but are still in excellent condition because they haven't been beat up in ports and ships. Many of our rental containers fall into this category.
IICL Cargo Worthy (IICL CW)
This condition indicates an International Institute of Container Lessors (iicl.org) condition stamp. These are often 6-10 years old and have virtually no dents or rust. The highest quality used containers available for sale.
Cargo Worthy (CW)
In general this means the unit has met the shipping industries' international standard. The unit is structurally sound and has been inspected by a certified container inspector. May have minor dents and surface rust.
Wind and Watertight (WWT)
No leaks or holes in the container. Generally 12+ years old. No longer Cargo Worthy due to dents and/or rust but still Watertight and rodent-proof and suitable for portable storage use. Can often be repaired to CW standard or used for many years as portable storage containers.
As Is
As-is containers have a known leak or defect. The most common area for leaks to occur is through dents and rust in the roof. Sometimes As-is units have issues with flooring or door hardware.
Reconditioned
A reconditioned container can be a unit of any of the previously described conditions that has been locally inspected, repaired, and applied with a fresh coat of primer or paint. From a distance they often can look as nice as 1-trip containers because all numbers and shipping logos have been covered with paint.
---
Interior Dimensions
20-Foot (standard height) Storage Unit Inside Dimensions
• Door Width: 7 feet, 9.5 inches
• Door Height: 7 feet, 9.5 inches
• Length: 19 feet, 6 inches
40-Foot (standard height) Storage Unit Inside Dimensions
• Door Width: 7 feet, 8.25 inches
• Door Height: 7 feet, 9.5 inches
• Length: 39 feet, 6.5 inches
40-Foot High Cube (Tall) Storage Unit Inside Dimensions
• Door Width: 7 feet, 8.25 inches
• Door Height: 8 feet, 5.5 inches
• Length: 39 feet, 6.5 inches